IS IT REALLY SO STRANGE?
Tired of agency clutter? Try us.
When you work with 400lb you work directly with a top tier creative team. We don't even have an account department. Our streamlined system puts you in direct contact with the folks doing your work. Welcome to 2020.
"… but seriously, what's with the name?"
Believe me, had I known how many times I'd have to retell the (admittedly lame) story, I would've picked a safer name. I shudder to think how employees at Wongdoody must dread the question.
Anyway, here's the story:
Early morning, 1997. Picture a young, impressionable designer settling down to catch the Dennis Miller Show on HBO.
Note to the kids at home: this is the Dennis Miller before he became an arch-conservative, right wing crazy. Fast forward to the credits: Directed by … , Best Boy …, then *wait for it* 400lb.gorilla / Dennis Miller.
Young designer finds it clever. Quickly registers URL. The rest, history.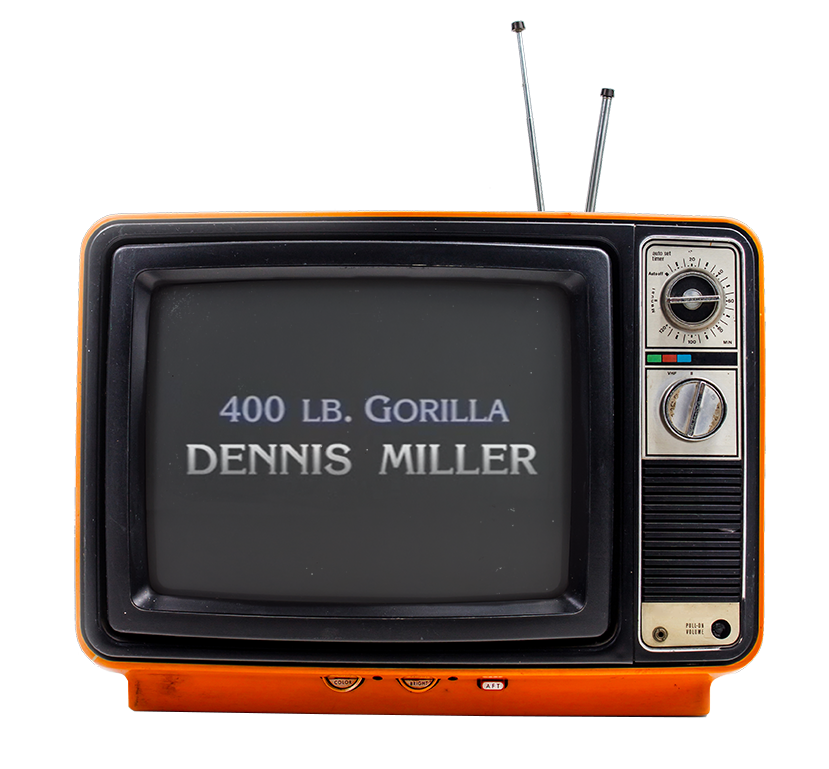 PAINT A VULGAR PICTURE
WHAT WE DO
Website design + Development
Multimedia / Video
Mobile Development
Search Engine Optimization
Branding
Traditional Advertising
SHEILA TAKE A BOW
AWARDS N'AT
American Graphic Design Awards
Pittsburgh Chapter of American Institute of Graphic Arts (AIGA)
International Association of Business Communications (IABC) Golden Triangle Awards
Pittsburgh Advertising Club ADDY Awards
SWEET AND TENDER HOOLIGAN
We are happy to be certified Carbon Neutral and support CarbonFund.org.
400lb.communications is a Pittsburgh-based marketing and design studio.
More specifcially, we are designers, programmers, writers, editors and storytellers.
We deliver exceptional creative solutions in a variety of media. And our cost-structure allows us to work for small to medium sized businesses who wouldn't otherwise work with an advertising agency. We also work with the big guys! We can save yinz guys money, too.
STOP ME IF YOU THINK YOU'VE HEARD THIS ONE BEFORE
We're Millenials! Born in 1999, 400lb.communications has been around long enough to remember when CSS was born. We saw Flash as the next big thing and then watched it die a slow, painful death. Our designs grew from 640x480 to 3000 pixel fullscreen bohemoths – and then shrink right back down as computers and phones made sweet, sweet love and produced the iPhone. It all boils down to perspective. We've seen trends come and go – but we have learned to appreciate that great design and flawless execution outlast all.
PLEASE PLEASE PLEASE LET ME GET WHAT I WANT
Currently on rotation in the 400lb offices:
Stranger Things Soundtrack

Grandaddy new tracks

YouTube: FilmRiot vids

Ennio Morricone

Smiths

Serial season 1

YouTube: After Effects tutorials

Yule Log

Video CoPilot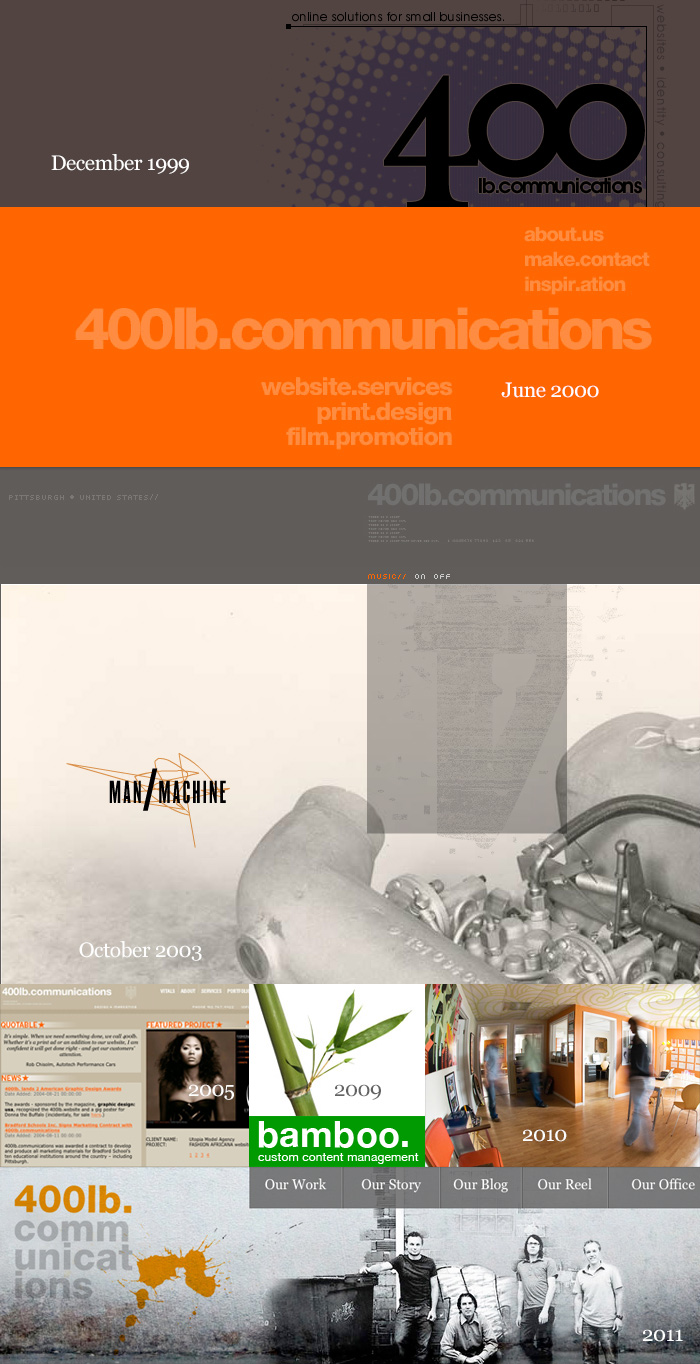 In July of 2011, 400lb.communications was acquired by Chemistry Communications and we packed up our Aspinwall world headquarters and headed to the Strip District of Pittsburgh.
Over the course of a year and half we worked hard, built some amazing websites, shot some cool videos, and made lots of new friends.
But it just wasn't meant to be. So, we're back. And looking forward to the next chapter of 400lb.communications. We hope you'll be part of the story.
THERE IS A LIGHT THAT NEVER GOES OUT.